To find the settings for fonts, go to Online Store > Theme in your admin screen and click Customize. Once inside the Customizer, at the very bottom find Theme Settings and click on it.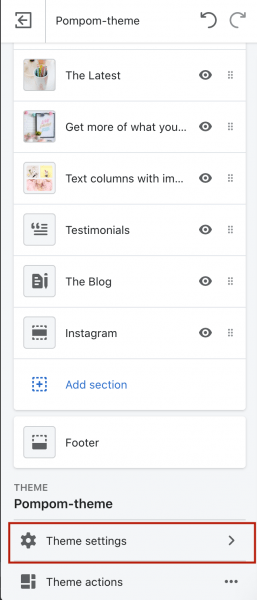 In Theme Settings, click on Typography to see the settings.

Custom Script Font
Honey Glow comes with the free script font, Fontjek. If you want to use your own font, select Use a custom script font.

Next, type in the name of your custom font and the file name of your font file. So, for example, if you want to use a custom font named Rumpi, type in "Rumpi" under Custom Font Name. If the name of your font file is rumpi.woff, then type that under Font file name. You can only use .woff files. Save when you're done and leave the Customizer.
Next, go to Online Store > Theme > Edit Code and click on "Assets." Underneath that, select "add a new asset."

From there, select Upload a file to upload your custom font file. So, for example, if you were uploading a font named Rumpi, upload rumpi.woff. Exit the window and go check out your site.

The custom font should be displaying, replacing Fontjek. If you're not seeing your font, double-check and make sure everything is spelled and typed correctly.