Our one-page WordPress themes have menus generated automatically on the homepage. The order is controlled by your Layout order. The setting for controlling the menu text can be found in each section's options under Menu Title.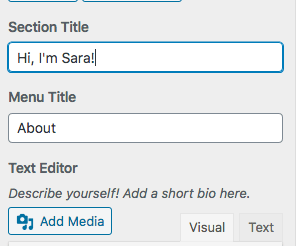 So, for example, if you have an About Section that's titled, "Hey, there!", but you want your menu text to say "About," add "About" under Menu Title.
Outside the homepage, there are two menu areas that have been predefined — a Primary Menu (at the top of the site) and a Footer Menu. If you want menus to appear there, create them in Appearance < Menus and add them to the appropriate areas.