In the Customizer, two menu items have been added: General Theme Options and Theme Homepage Sections. Options under general are pretty self-explanatory, but you can turn on/off sticky headers, turn on/off sidebars, and change your 404/footer texts. However, most of the settings for the theme will be located under Homepage Sections. Below, we'll take you through each one so that it makes sense.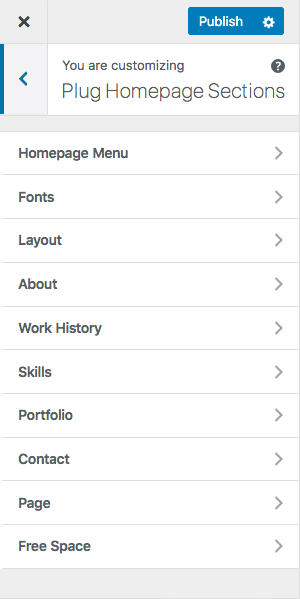 Homepage Menu
This option only controls the color of your main menu. If you're finding that the menu color is clashing with your background color, you can change the color here.
Fonts
Our one-page themes use Google fonts and one default custom font. Only the headers are affected by this option.
Layout
Here you can rearrange the order of the homepage sections. You also can turn certain sections on or off.
About
Settings for the about section. Upload an image, bio, and resume. If you're wondering where the social media link settings are, those are located in Customizer < Homepage Sections < Social Media Icons.
Work History
Add your job history by clicking on "add new field." You can add as many as you like and rearrange them in any order.
Skills
Similar to Work History. Add a new skill by clicking "add new field" The "percentage of proficiency" setting is for controlling the animated bar. The higher the number, the longer the bar. These fields can also be rearranged.
Portfolio
To add a project, select "add new field." Projects can be reordered, and you can add as many as you want.
Contact
Enter all information. In the text field for Address, make sure to press "enter" for each line. So, for example, don't type your address like this:
Jane Brewster, 123 Fake St., NYC, NY 11111
Write it like this:
Jane Brewster

123 Fake St.

NYC, NY 11111
Also, this contact form will send messages to your WordPress administrative email address, which you can find under General Settings in your dashboard.
Page
This section is for displaying a WordPress page in a section. So, for example, if you have a page on your site that you want to appear on the homepage, select the name of the page from the dropdown menu. This is also a cool way to display shortcodes on the homepage. By default this section is turned off, so remember to go to Layout and turn the section on when you want to use it.
Free Space
Exactly what it sounds like. Use this section for whatever you like! By default the section is off, so remember to go to Layout to activate it.
Social Media Links
Add links to all your social media accounts here. Also works with email addresses. The icons will display in the About Section and in the footer menu.