A lot of people who use WordPress struggle when it comes to optimization, often getting stuck with slow, laggy sites, and not knowing why. It might just seem like a minor annoyance, but a slow site can be bad for SEO, can increase your bounce rate, and creates a crappy user experience.
So, what causes a slow WordPress site? Contrary to popular belief, it's not just your theme. There are actually a few factors that contribute to slowing down webpages, the main culprits being:
High-resolution images
Tons of plugins
There are other factors that are a bit more technical, but for the average site owner, the two issues above are the most pertinent since these are the most controllable.
So why images?
As someone who's very acquainted with Google's Page Insights (who's always shaking its finger disapprovingly at me), large image sizes are usually always at the top of the list of things that are slowing down a webpage. And it makes sense since most people download massive images from sites like Pexels or Unsplash and don't think anything about its 1.2 mb size.
There's also a misconception that WordPress reduces image sizes for you, but that's only half true. WordPress creates different sizes of your images, but the images aren't optimized. Even images served in "medium-large" format can still be rather large.
And what about plugins?
Most people who use WordPress love it for the plugins. However, too many plugins can slow down a webpage. Each plugin has its own stylesheet and scripts that run on every page while it's activated. This is fine if you have only two or three plugins, but for most people, they're running 10+ plugins, most of which aren't even in use.
So, how can you speed up your WordPress site?
For Images: Download an image optimization plugin. I recommend Resmush.it, which we use on this site and on all the demo sites. The plugin will go through your media library and compress each image, decreasing the file size without reducing its quality.
For plugins: Go through your list of plugins and do a purge. Keep two or three plugins that are your favorite and deactivate/delete all the ones that are non-essential.
The Holy Grail: Cache Plugins
If you've done the two suggestions above and your site still isn't as speedy as you'd like, try using a cache plugin like WP Fastest Cache. These plugins take a snapshot of your webpages and cache them for your visitors. Some web hosts even have their own optimization/cache plugins that they automatically activate on WordPress installs. If that's the case, definitely take advantage of that and use them when you can.
As for us, we don't use any optimization or cache plugins on this site or on the demo sites. We think it's important for users to see how fast WordPress can be when you use it right by optimizing your images and using fewer plugins.
In the recent updates for Birthday Cake, Zine Queen, and Bubble Tea, we added additional functions to keep users from uploading full-size images, and our page speed scores have increased even more because of it: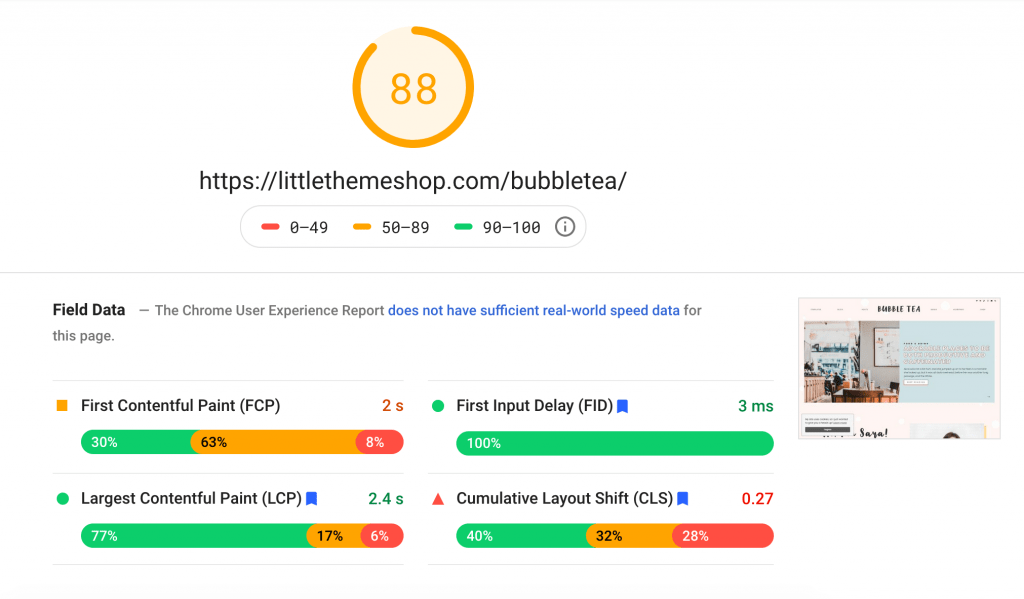 Remember, a fast site is a happy site. 🙂